An Ode to Newark
land: reflections on space + power, 2020
Sold Out
8"x10", 86 Pages
Vellum Cover
Risograph and Digital Print
Edition of 50, $40
Limited edition of 10 signed by the Collective, $100

LAND Collective joins together to address the central questions: what is our relationship to space and how do we define power? Rooted in Newark, the artists and storytellers, reflect on their own unique positions and relations to the city in order to offer insights into how we understand, see, and impact the land in which we occupy. Collectively, they retell stories of migration, policing, protest, water, and gentrification.

The publications contributors include co-founders Alliyah Allen and Nene Aïssatou Diallo, along with artists Chrystofer Davis, Gabriel Ribeiro, and Jillian M. Rock.

This project is supported by Project for Empty Space, the Express Newark Third Space Award, and will be presented as a virtual exhibition hosted on

www.landnwk.com

from December 14th, 2020 to March 15th, 2021.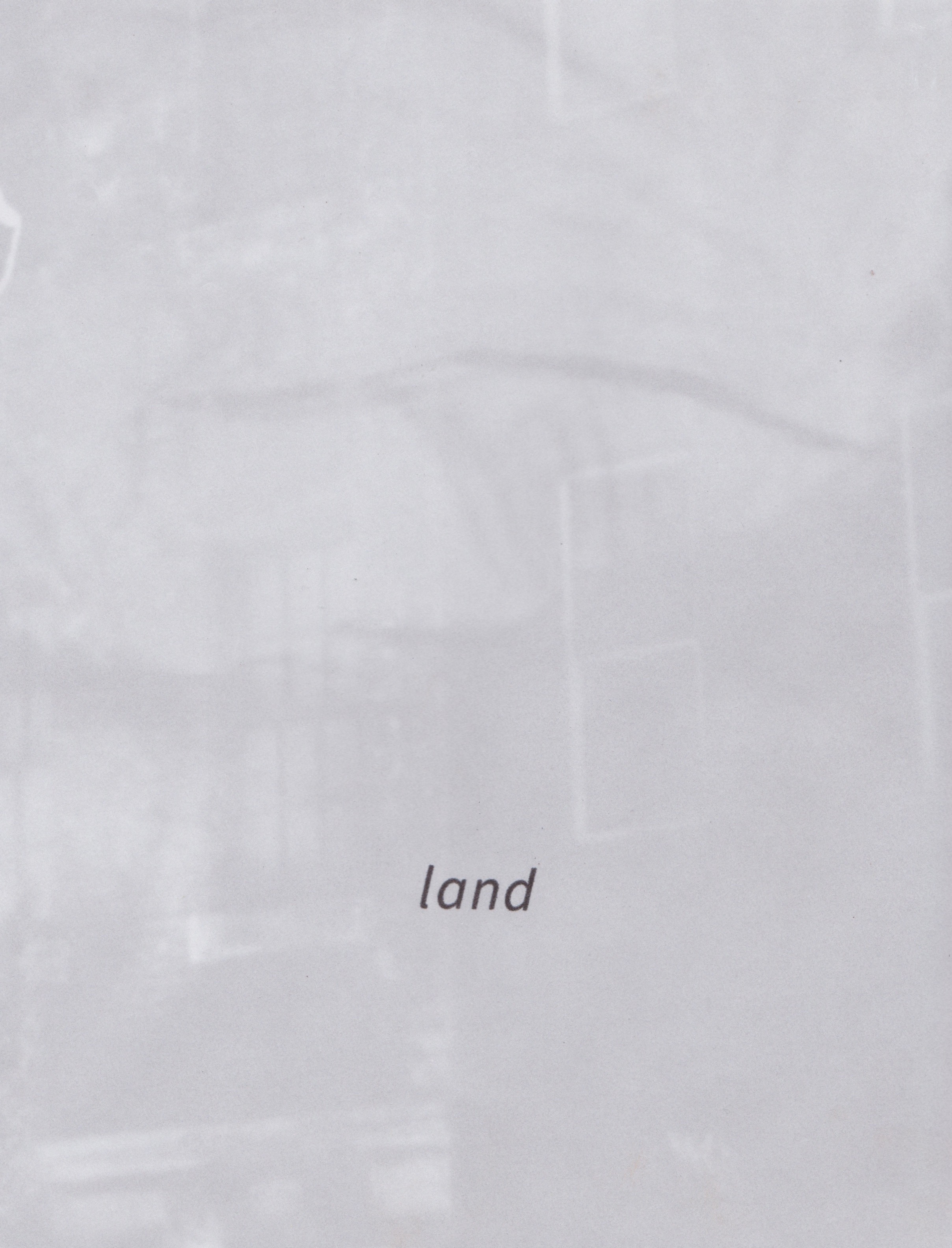 Carrying the Stories Home: A Reflection on Marisa Williamson's Sweet Chariot
Monument Lab: Creative Speculations for Philadelphia, 2020
Available for Purchase
$35
336 pages
6.75 x 9.375
160 color photos, 82 halftones

Monument Lab is a fabulous compendium of the exhibition and a critical reflection of the proceedings, including contributions from interlocutors and collaborators. The exhibition and this handbook were designed to generate new ways of thinking about monuments and public art as well as to find new, critical perspectives to reflect on the monuments we have inherited and to imagine those we have yet to build. Monument Lab energizes acivic dialogue about place and history as forces for a deeper questioning of what it means to be Philadelphian in a time of renewal and continuing struggle.

Contributors: Alexander Alberro, Alliyah Allen, Laurie Allen, Andrew Friedman, Justin Geller, Kristen Giannantonio, Jane Golden, Aviva Kapust, Fariah Khan, Homay King, Stephanie Mach, Trapeta B. Mayson, Nathaniel Popkin, Ursula Rucker, Jodi Throckmorton, Salamishah Tillet, Jennifer Harford Vargas, Naomi Waltham-Smith, Bethany Wiggin, Mariam I. Williams, Leslie Willis-Lowry, and the editors.

Artists: Tania Bruguera, Mel Chin, Kara Crombie, Tyree Guyton, Hans Haacke, David Hartt, Sharon Hayes, King Britt and Joshua Mays, Klip Collective, Duane Linklater, Emeka Ogboh, Karyn Olivier, Michelle Angela Ortiz, Kaitlin Pomerantz, RAIR, Alexander Rosenberg, Jamel Shabazz, Hank Willis Thomas, Shira Walinsky and Southeast by Southeast, and Marisa Williamson.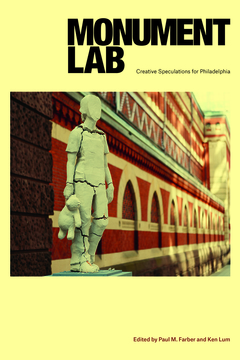 A Call to Peace


October 2019—November 2019
Newark, NJ
Read More

A Call to Peace is a public art and history exhibition co-curated by New Arts Justice and Monument Lab around a central question: What is a timely monument for Newark? The exhibition was conceived in response to Military Park's Wars of America monument (1926), built by sculptor Gutzon Borglum. Borglum, famed for creating Mount Rushmore and designing a Confederate Monument on Stone Mountain in Georgia, was also affiliated with the Ku Klux Klan and used granite from Stone Mountain as the pedestal for his sculpture in Newark.A Call to Peace includes four temporary prototype monuments by artists Manuel Acevedo, Chakaia Booker, Sonya Clark, and Jamel Shabazz, who each responded to the exhibition's central question. The artists' projects respectively focus on underrepresented veterans, engaging the legacies of the Confederate statues, and addressing the relationship between public spaces and historical memory. The artists were invited based on their interdisciplinary approaches to monumental work and their innovative approaches to art and social justice.

Co-Curators: Salamishah Tillet, New Arts Justice and Paul Farber, Monument Lab

Assistant Curator: Alliyah Allen, New Arts Justice

Curator of Engagement: fayemi shakur

Strategy and Operations: Dr. Laura Troiano

Public History Research Partner: Mark Krasovic

Partners: New Arts Justice Initiative at Rutgers University-Newark; Mayor Ras Baraka and the City of Newark; Clement A. Price Institute on Ethnicity, Culture, and the Modern Experience; Rutgers University-Newark Departments of African-American and African Studies and Creative Writing Program; Express Newark; John Cotton Dana Library; Military Park Partnership; Monument Lab; Newark Arts Festival; the Newark Museum; Project for Empty Space; and SHINE Portrait Studio.


SHINE


December 2017
Haverford, PA
SHINE is a photo exhibition by Alliyah Allen '18 presented by the John B. Hurford '60 Center for Arts and Humanities and VCAM that serves the purpose of archiving womxn of color at Haverford.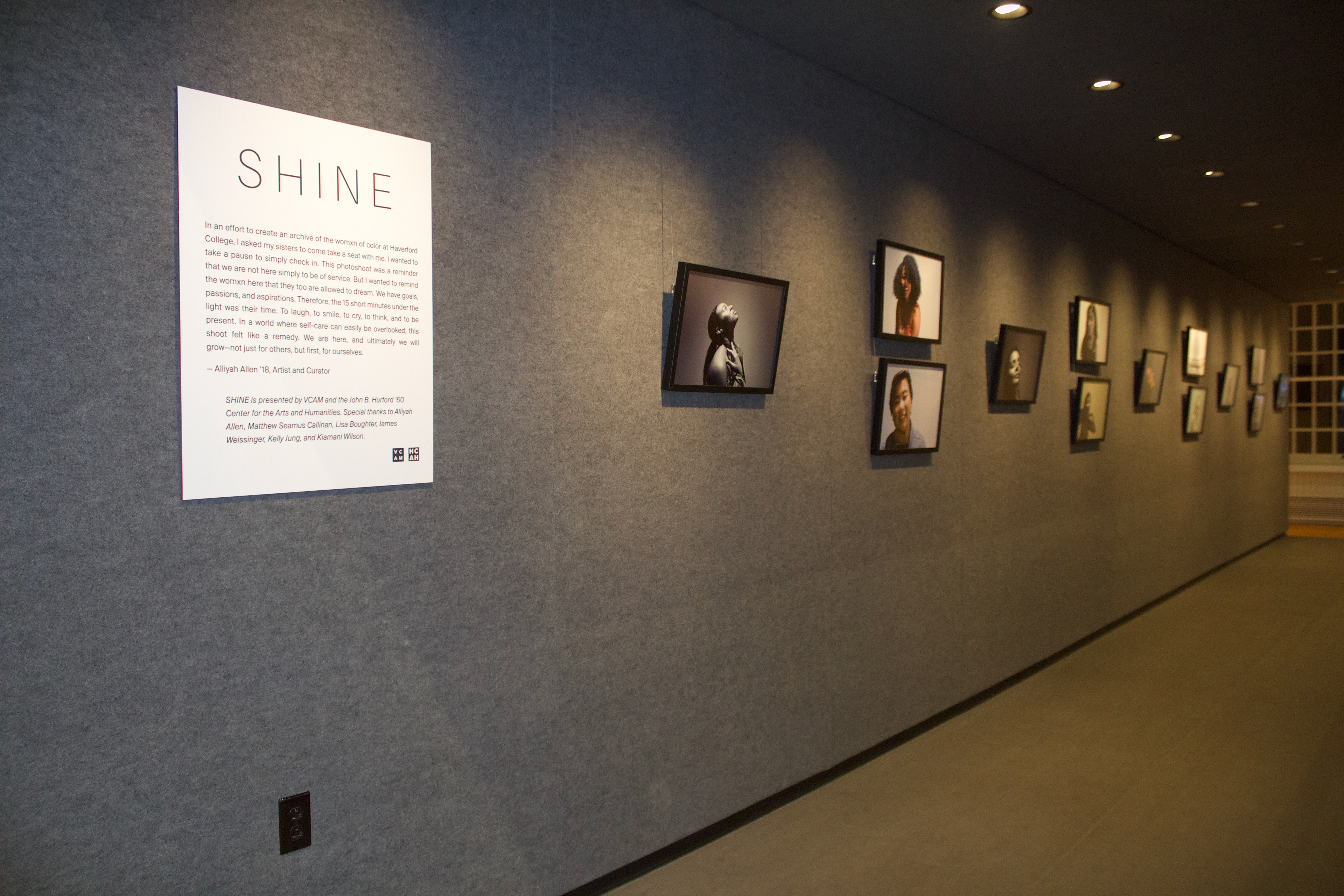 Exhibiting Africa
January 2017 - March 2017
Bryn Mawr, PA
Exhibiting Africa: Ways of Seeing, Knowing, and Showing was organized by students in the 360˚ course cluster, "The Politics and Poetics of Race," and offers a new look at the College's collections of African art and artifacts. Having spent the fall semester investigating a history of exhibitions of "Africa" and African materials, while also visiting present-day displays in local museums, these student curators apply what they've learned in an exhibition of their own making.