>

Home



Exhibition


A Call to Peace


October 2019—November 2019
Newark, NJ

A Call to Peace is a public art and history exhibition co-curated by New Arts Justice and Monument Lab around a central question: What is a timely monument for Newark? The exhibition was conceived in response to Military Park's Wars of America monument (1926), built by sculptor Gutzon Borglum. Borglum, famed for creating Mount Rushmore and designing a Confederate Monument on Stone Mountain in Georgia, was also affiliated with the Ku Klux Klan and used granite from Stone Mountain as the pedestal for his sculpture in Newark. A Call to Peace includes four temporary prototype monuments by artists Manuel Acevedo, Chakaia Booker, Sonya Clark, and Jamel Shabazz, who each responded to the exhibition's central question. The artists' projects respectively focus on underrepresented veterans, engaging the legacies of the Confederate statues, and addressing the relationship between public spaces and historical memory. The artists were invited based on their interdisciplinary approaches to monumental work and their innovative approaches to art and social justice.

Co-Curators: Salamishah Tillet, New Arts Justice and Paul Farber, Monument Lab

Assistant Curator: Alliyah Allen, New Arts Justice

Curator of Engagement: fayemi shakur

Strategy and Operations: Dr. Laura Troiano

Public History Research Partner: Mark Krasovic

Partners: New Arts Justice Initiative at Rutgers University-Newark; Mayor Ras Baraka and the City of Newark; Clement A. Price Institute on Ethnicity, Culture, and the Modern Experience; Rutgers University-Newark Departments of African-American and African Studies and Creative Writing Program; Express Newark; John Cotton Dana Library; Military Park Partnership; Monument Lab; Newark Arts Festival; the Newark Museum; Project for Empty Space; and SHINE Portrait Studio.


SHINE


December 2017
Haverford, PA
SHINE is a photo exhibition by Alliyah Allen '18 presented by the John B. Hurford '60 Center for Arts and Humanities and VCAM that serves the purpose of archiving womxn of color at Haverford.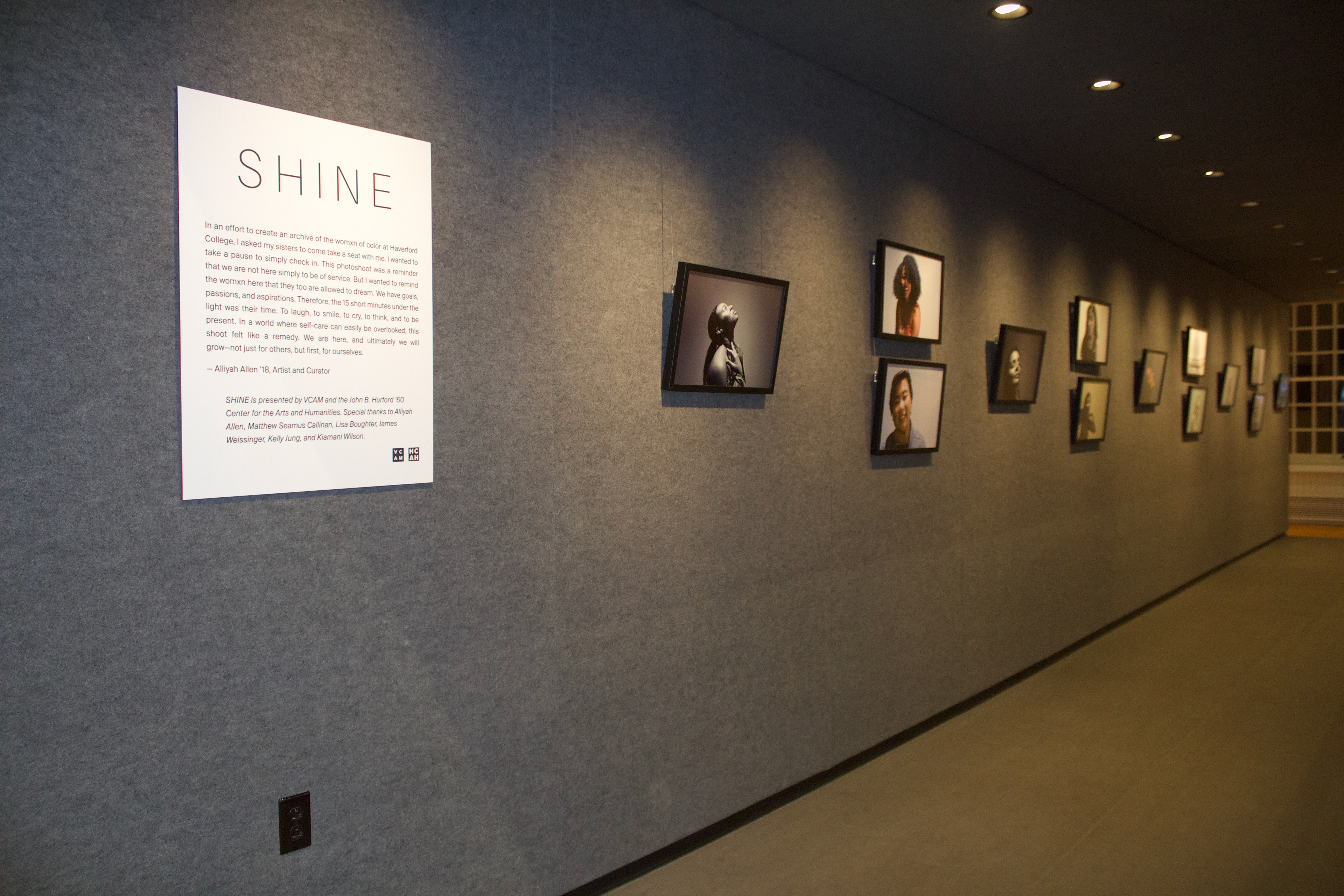 Exhibiting Africa
January 2017 - March 2017
Bryn Mawr, PA
Exhibiting Africa: Ways of Seeing, Knowing, and Showing was organized by students in the 360˚ course cluster, "The Politics and Poetics of Race," and offers a new look at the College's collections of African art and artifacts. Having spent the fall semester investigating a history of exhibitions of "Africa" and African materials, while also visiting present-day displays in local museums, these student curators apply what they've learned in an exhibition of their own making.